4 Ways Retail is Different Post-Pandemic
So many changes occurred as a result of the global COVID-19 pandemic. When the world shut down, people and businesses had to adapt.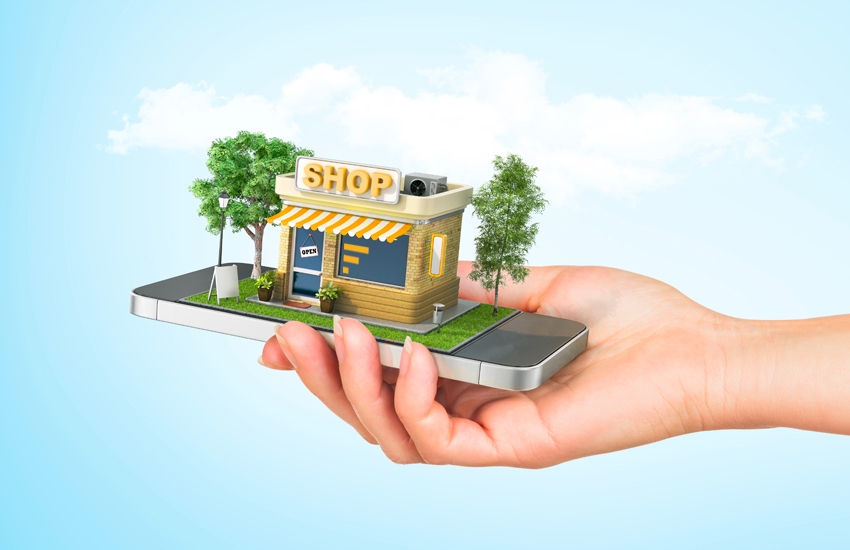 So many changes occurred as a result of the global COVID-19 pandemic. When the world shut down, people and businesses had to adapt. But one thing still rang true – people needed items. They turned to e-commerce to get what they needed (online sales increased 19% in 2020). And stores delivered, despite a struggling supply chain.
As it turns out, even though stores are now opening back up – and in-store sales are climbing – there are some modern-day conveniences that arose during the pandemic that consumers are not ready to give up. Therefore, the landscape of shopping centers and retail is adjusting to meet consumer demands.
How the Look & Feel of Retail Has Changed
By reimagining their role in the supply chain and adding omnichannel solutions, retailers are adapting to their customers' needs and ensuring people can get what they want, when they want it and how they want it.
Going Digital – Even Beyond E-Commerce 
E-commerce sales have been increasing by double-digits for years, bringing total annual sales up to nearly $900 billion in 2021. Yet, despite such an impressive number, brick and mortar sales are growing faster than online sales and account for more than 80% of the global retail market. However, e-commerce can't be discounted. Retailers must find a way to invest in e-commerce fulfillment while also continuing to provide the type of in-store shopping experience that consumers demand.
One way to do that is to bring the digital experience to the physical location. People want the convenience and personalized shopping experience that they get online in the store. That could include options like click-and-collect models [such as curbside pickup and buy online, pick up in store (BOPIS)], appointment shopping, self-checkouts or contactless payment options, and store apps or digital tools available in-store (like pricing kiosks or product information terminals).
Increased Delivery Speed & Options Through Stores as Fulfillment Centers
Consumers crave convenience and have become accustomed to extremely fast delivery thanks to certain large online retailers. People now expect that same-day and next-day shipping from all of their favorite stores. In fact, when given options, shoppers selected same-day or next-day shipping nearly 60% of the time from store-based retailers in 2021. Less than a quarter of shoppers are willing to wait for day three. 
Now retailers of all sizes must figure out ways to meet two-day delivery demands among already strained equipment, processes and personnel – or risk losing business to the companies that can. 
However, a viable solution is right in front of them – using stores as local fulfillment centers. Retailers can streamline large volume shipments inbound to distribution centers and stores, putting product closer to their customers. Plus, it also helps cut expenses in the very costly last mile. Last-mile shipping accounts for 53% of total shipping costs so reducing travel time from local stores to local customers allows for faster, cheaper and more environmentally-friendly deliveries.  
Just for Showrooms
Supply chain delays have retailers searching for inventory innovations. Shipments from China to the U.S. West Coast now average more than 100 days compared to less than 50 in 2019. The delays have tied up billions in inventory. Most Americans have experienced the longer lead times for online orders and empty store shelves. 
In response, some retailers are resorting to less SKUs to improve their in-stock levels. Others are moving to zero-inventory stores, essentially turning their sales floors into showrooms. Shoppers can view and test products, but not walk out with them. Instead, stores ship the products later, buying time in the supply chain while minimizing carrying costs. Stores like Best Buy and Bonobos pioneered the model with other retailers now coming on board. It works because it provides the in-store experience that people want but also has the added convenience of delivery. However, to ensure consumer satisfaction, retailers operating in this model must have a reliable fulfillment and last-mile delivery provider that can ensure orders are drop shipped quickly and will reach the buyer in less than three days. 
In-Store and Convenient Return Policies
Nearly 21% of everything sold online gets returned, according to the National Retail Federation. Consumers actually buy with the purpose of returning in some cases. They'll purchase multiple products in different sizes or colors, choose their favorites and return the rest. That erodes profitability. A returned product can take weeks to return to inventory, but, just as frequently, it ends up liquidated or in a landfill. This generates high shipping, handling and processing costs. 
However, if retailers can incorporate online returns in their physical stores, it presents multiple opportunities to turn that return into profits. Undamaged products can be resold directly from the store it is returned to, saving on packaging and shipping costs. Additionally, by getting people in the store, they are likely to make impulse purchases and increase their loyalty to your brand (thanks to the convenience factor of not having to ship an item back and wait for a refund). There's also an opportunity to provide a coupon for an in-store-only purchase, which can entice them to shop around since they are already there. 
It really goes back to giving people what they want in their shopping and returns experience. Invesp, a conversion rate optimization company, found that 62% of shoppers are more likely to shop at an online retailer that allows for in-store returns and that 92% of consumers surveyed said that they will buy again if the return process is easy.
Future of Retail
While change is inevitable, it doesn't have to be scary. Retailers can stay ahead of the curve by investing in new omnichannel opportunities and the technology that can improve shopping, fulfillment and delivery. 
For more information on how the retail ecosystem is changing and what you can do to adapt to those changes, download our latest report "Reimagining Retail: Modernizing Supply Chains to Meet Changing Consumer Demands."
If you're ready to see our proprietary software and services in action, schedule a demo.