5 Solutions to Common Retail Logistics Challenges
The retail industry is a huge player in the US economy. It supports about 52 million jobs nationwide and adds nearly $4 trillion to the gross domestic product every year.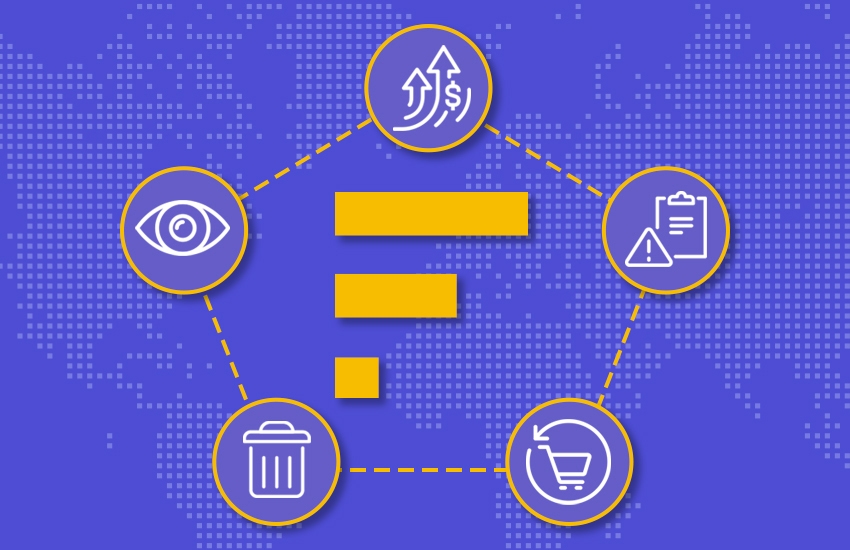 The retail industry is a huge player in the US economy. It supports about 52 million jobs nationwide and adds nearly $4 trillion to the gross domestic product every year, according to the National Retail Federation. Ensuring it continues to thrive through supply chain and retail logistics challenges is paramount. 
Of course, those challenges continue to evolve as customer purchase and delivery options expand. But no matter how a customer shops, the new expectation is fast delivery (often two days or less), convenience, and easy returns. 
With all of the challenges associated with these customer expectations, retailers and digitally native brands have to have their logistics and supply chain management on point. 
We've put together this blog to showcase how technology and collaboration in the supply chain are helping retailers and DNBs combat common challenges.
Combatting Retail Logistics Challenges with Technology & Collaboration
Challenge #1: Expense of retail logistics 
The cost of transportation, labor, inventory management, technology, etc. are all rising, and they add up quickly in retail logistics. But there are cost-saving solutions to implement.
Solution: Aggregation, technology, and using an alternative delivery network. Aggregation is better because it allows you to consolidate multiple shipments into one larger shipment, which then reduces overall handling costs while still getting goods delivered quickly and efficiently to their final destination.
"Historically, last mile, point to point delivery, is a stinker," said Bill Thayer in a recent Better Yet episode. "One package, one driver – that's not going to make anybody any money. … However, through aggregation in the middle mile, being able to zone skip into a region or do deconsolidations and use local market delivery partners, harnessing that technology to make that happen, that's what wins." 
Technology is a huge component of optimizing operations and saving money as well. But for many retailers, building their own network and technology access is cost prohibitive, but that's where a provider, like Fillogic, comes into play.
"For a retailer to build an integration with all of these carriers that are out there, [it is costly in price and time]," Thayer noted in a recent Freightwaves podcast. "But if you can build an integration with a middle mile provider, which is part of what we do, it allows them to tap into our network. So, in other words, we onboard capacity, we onboard demand, we manage the relationship, and we work with our carrier partners and say, 'Hey, how can we basically pass our demand through you?' And it takes this collaborative approach where we're able to grow together and create what we're calling an alternative network."
Challenge #2: Ineffective inventory management
Retailers tend to think of inventory in terms of commerce channels. But that is actually contradictory to the way people shop and managing inventory most cost-effectively and efficiently. 
Solution: Switch to a channel-free fulfillment mentality. Store inventory as one unit and house it where it's needed – based on shopping habits. Don't segment by brick and mortar, ecommerce, etc. Instead consider all inventory channel-free and ship it to whoever needs it whenever they need it. It will save time and money. 
"(Fillogic has) created a channel-free logistics platform by creating fulfillment efficiencies in the middle mile via our hub network and our delivery marketplace that enables businesses to deliver orders faster and at a lower cost," Thayer said. "While our goal is improving supply chain visibility and helping retailers meet consumer demands, we're also very proud of the added benefit of reducing greenhouse gas emissions and keeping tons of product in circulation for use by consumers."
Challenge #3: The increase in product returns
At least 16.5% of all merchandise purchased in the US is returned, which means that for every $1 billion in sales, the average retailer incurs about $165 million in returned product, and for every $100 in accepted returns, retailers lose about $10.40 to fraud. This is very problematic for retailers and brands, but it doesn't have to be if reverse logistics are handled efficiently.
Solution: Outsourcing reverse logistics. Returns are traditionally expensive for retailers. But taking that responsibility away from the stores, it can save time and money and allow in-store personnel to focus on providing the best customer service. 
"We look at reverse logistics as an opportunity for another sale," Thayer said. "And from our perspective, there's a circularity component to it, but if I'm going to get paid to receive it, get paid to store it and ship it again, and I can also do that for returns – that's good business. … Returns do not help retailers from a margin perspective, so we're about returns intercept. How can you intersect in that middle mile to take what could be a 15 to 35 day return process? If you can take that down to two, you've now changed the margin equation for how people make money or lose money in ecommerce and any sort of transaction."
By this philosophy and methodology, Fillogic reduces the time it takes to get products back on the shelf from weeks to days – 200% faster and with a 50% reduction in cost.
Challenge #4: The amount of waste in the supply chain
From dumping in landfills to carbon emissions to building unnecessary distribution centers, there is an enormous amount of waste that retailers can easily reduce by changing the way they operate. 
Solution: Decentralize distribution, keep product in circulation, and utilize existing infrastructure. This keeps products closer to the end consumer, reducing transit miles and emissions, discarded merchandise, and cuts back the need for building centralized warehouses. 
For example, by implementing a circular solution and breaking down supply chain silos, Fillogic was able to keep 18 tons of material in circulation and 65 metric tons of CO2e emissions out of the atmosphere in 2022. 
Challenge #5: Lack of visibility 
Retailers and digitally native brands often struggle with full supply chain visibility because of the varied number of cogs and disparate systems in their supply chain. 
Solution: Logistics as a service. By utilizing a logistics-as-a-service provider that has technology solutions and connected partners in the middle and final mile, retailers and DNBs can easily track orders/product from order through delivery. For example, the Fillogic technology platform uses real-time, two-way integrations with retail order management systems (OMS) to enable expedited fulfillment, providing customers with online access to shipment visibility through Fillogic's network of national, regional, and local carriers. This expanded visibility across the entire supply chain empowers retailers to identify and resolve issues and improve overall efficiency.
Improving Retail Logistics
As the retail landscape and consumer shopping behavior and expectations continue to evolve, so must retail logistics. That is why it's important to put a scalable and efficient plan in place. Working with a third-party provider, like Fillogic is the best way to do that. It simplifies logistics, allows retailers to focus on their core business, and provides sustainable and circular benefits. 
Fillogic specializes in providing channel-free solutions to physical and online retailers. The company operates a nationwide network of localized, tech-enabled micro distribution hubs.
Fillogic Hubs utilize existing retail space located near shopping malls and major retail areas. The strategic locations and the use of the Fillogic Delivery Marketplace, a proprietary multicarrier network and sort/seg solution, reduce transit times and carbon footprints for retailers. Each hub offers a full range of services that can include sort/seg, store-based fulfillment, last-mile delivery, and reverse logistics/returns.