4 Ways Retailers Use Logistics Platforms to Counter the Amazon Effect
Retailers can successfully counter the Amazon Effect by using logistics ecosystems that are connected to innovative platforms and services.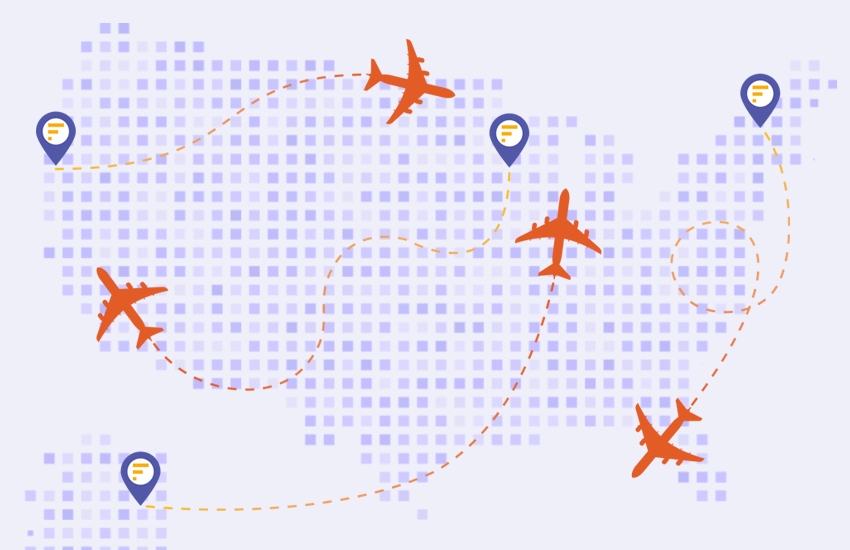 How can retailers compete with Amazon? The answer is they can't – at least not directly. Fortunately, a number of technology and service providers have made it possible to meet, and in some cases exceed, the delivery standards of the world's largest online retailer.Amazon is not just the world's largest online retailer but also the largest logistics provider. The company's breadth and depth in logistics makes it nearly impossible for retailers to compete directly with its ecommerce fulfillment capabilities. They can, however, meet the same level of customer service by partnering with companies that help with mastering the most difficult aspects of omnichannel fulfillment.
Retailers can successfully counter the Amazon Effect by using logistics ecosystems that are connected to innovative platforms and services. With these integrated ecosystems, retailers of all sizes have fulfillment capabilities that rival those of big-box retailers, ecommerce behemoths, and large parcel delivery companies. 
The rise of "logistics-as-a-service" (LaaS) platforms have made it possible for retailers to access data insights to improve decision-making and access infrastructure, capacity and technology networks for scaling growth and improving the customer experience.
Embracing Technology in Retail Logistics 
Retailers who have not yet changed how they do business in the Age of Amazon are now either gone or on life support. Going forward, more will be using retail logistics ecosystems from service providers that can evolve rapidly to meet their needs to have more and better options for rapid and more efficient fulfillment.
Some retail logistics providers specialize in delivering technology and integrated networks that help clients scale efficiencies in the middle and final mile. The providers have networks that utilize existing capacity and infrastructure as well as connections with other ecosystems that can be managed through a single LaaS platform.
LaaS platforms that also leverage artificial intelligence (AI), digital workflows, and real-time integrations with retailers' back-end systems help optimize the flow of information and synchronization of supply chains.
Below are four ways that LaaS platforms make it possible for retailers of any size to compete in the Age of Amazon.
1) Make better decisions
One of the biggest benefits of using a retail logistics platform is being able to  aggregate and analyze data across your business to identify and improve upon areas of inefficiency. You can gain visibility of present and future challenges and opportunities to make better decisions for inventory management, capacity procurement, delivery performance and much more.
You can use data insights to identify when and where adding more fulfillment services and supply chain support makes sense. As an example, a retailer may notice that certain products are selling well online but not in stores. It could take action by adjusting inventory levels and relocating items closer to where products are being sold to increase sales and reduce delivery times.
2) Optimize networks
LaaS providers not only give retailers access to more information. They also have tools and services that retailers need to optimize their supply chains. Retailers can use LaaS platforms to expand their carrier and warehouse networks, for example, to offer two-day or next-day deliveries to a broader geographical area, all while eliminating the need to build new distribution centers.
Retailers can also use the resources of an LaaS provider to source capacity and negotiate the best rates on a lane or per-load basis. Additionally, they can add new services to expand their fulfillment options as well as improve their sort/seg and pick and pack processes. 
3) Reduce costs
Another advantage of retail logistics platforms is that they can help reduce shipping and fulfillment costs. This is done by utilizing a variety of methods like consolidating orders from multiple channels into one shipment and optimizing delivery routes. 
By reducing logistics costs, retailers can invest more money into other areas of their business or pass along savings to their customers in the form of lower prices. 
4) Improve customer experiences
In addition to reducing costs, LaaS platforms can help improve customer experiences by giving retailers an automated system for tracking shipments and providing customers with order and delivery status updates. Customers appreciate being kept up-to-date on the status of their orders, and the peace of mind that comes from knowing when their packages will arrive.
The Future is Now
No matter what happens next in the retail landscape, one thing is clear: retailers who fall behind may never catch up. Choosing a robust logistics platform and expert provider is the best way to stay ahead of market trends and counter the Amazon Effect. Implementing a cloud-based, innovative platform will help with coordinating transport capacity and supply chain assets in ways that simplify transactions for your customers, and increase your delivery speed, all while reducing costs.
There has never been a better time for retailers to tap into the power of LaaS platforms and connected logistics ecosystems to elevate business success.
To learn how innovations in retail logistics can benefit companies of all sizes, download our free guide, "A Flight Plan to Successfully Navigate Retail Logistics." 
See more ways to deliver efficiency in the age of Amazon in our infographic below.